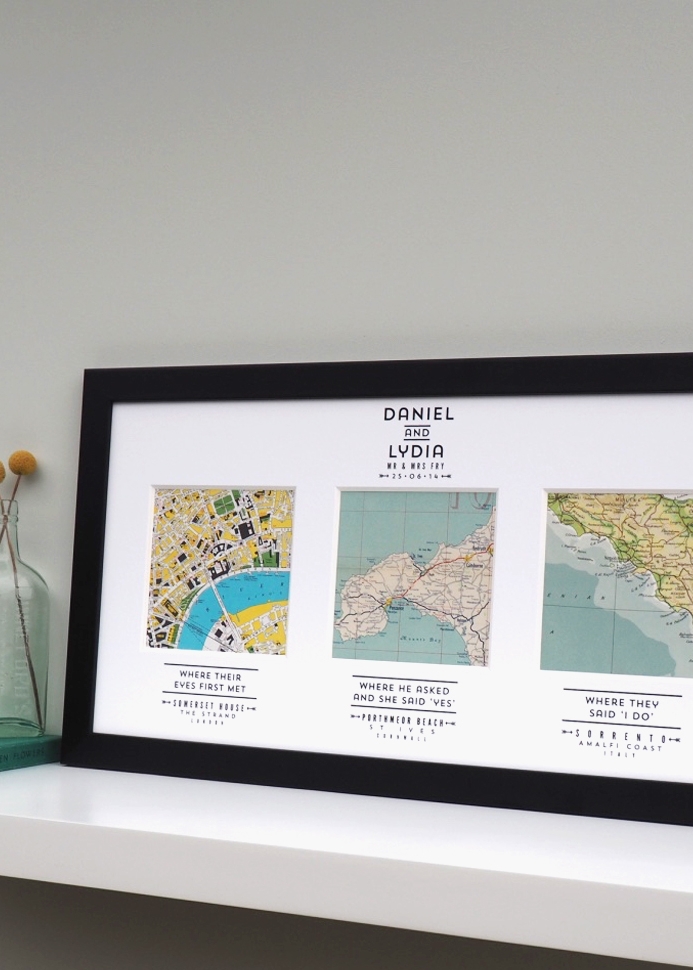 3 MAP
This is a stunning personalised gift. I know how very big headed of us to say so. But it honestly is a real crowd pleaser. Cataloguing the three most important events leading up to the big day, where the two love birds meet, got engaged and of course where they said I do. If Carlsberg made wedding gifts this would be it!
The majority of the maps we have are at a scale that will show towns and cities rather than street maps but for larger cities we do have street plans so it depends on the location required. For very small places and islands we sometimes have to source modern maps to ensure the destinations are included. Small islands such as the Maldives and the Greek Islands will be often be very small within the map due to their location and the types of maps available.
Please note that we are often able to create these map prints within a tighter timeframe but have our delivery times set to ensure that we have time to source maps if we don't have anything suitable in stock. If you are needing your print earlier than the suggested delivery times don't hesitate to get in touch and ask what is possible and we can confirm based on our studio capacity.
Always screen printed in black on the white mount for the most striking finish.
We do not offer a proofing service as standard but you can pay to receive a proof if you want to check the map we will be using before we start the making process. You can then ask for alternatives to if you had a different style map or different scale in mind.